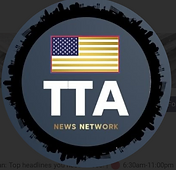 STATEMENT FROM TTA PRESIDENT GEOFFREY A. FIELDS
"As Americans, we must unite to denounce and demand accountability for those attempting to interfere in the 2024 presidential election with the baseless prosecution of former President Donald J. Trump. We must condemn the use of government resources by the ruling class to harass, intimidate, silence, and politically persecute dissenting voices and rivals.
I urge peaceful protests to make our voices heard. The SOROS-owned Manhattan district attorney Alvin Bragg should reverse course immediately, or President Trump should appeal to the Supreme Court of the United States for intervention, as the Court has the authority to intervene if a person's constitutional rights were violated. We need to act now to safeguard the rights of all citizens and prevent this abuse of power from taking root in our society.
Joe Biden's White House and the radical left are leading America to a dark place, and the corporate news media has also done great damage by covering up actual felonies committed by the Biden family while attacking President Trump and his base relentlessly. Now, the entire world is paying the price, with a Russia-Ukraine war, global inflation, record-level border crossings, massive crime spikes, and failing banks.
We must unequivocally condemn all forms of political persecution and stand firmly against the weaponization of government for political purposes."
https://thetruthfulamerican.com | @Gmoney__23 | TTA on Facebook